Toll-Free: 1-866-352-6011
EqMD Physician Dispensing Program Training
EqMD offers comprehensive physician dispensing program training and education programs tailored by location personnel trained to dispense, present and sell to patient. We provide continual management of this process.
Only About 20 Minutes is Required for Staff Training
Formulary Development and Support
Workers' Compensation EDI Support
Online and Continuing Education/Training Available
Regional Manager Account Support
24 Hour Technical Support
Dedicated Client Service Personnel
On-Call Pharmacist
Marketing Support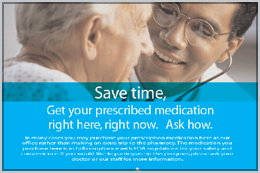 Inform patients of this new service. Launch a marketing campaign using letters, newsletters, office signage and pamphlets to announce it.